Update Engage IP Gateway Firmware and Locks through PremiSys.

You can update the firmware of IP gateways and associated locks through PremiSys. Follow these steps to upgrade your firmware.
1.) Download the most recent firmware package from the Access Control Firmware page. Look for the Engage package. This package includes Gateway, NDE, LE, Control, and RURM firmware. Click here for Firmware Downloads.
2.) After you have the firmware package downloaded, place the EngageFirmware.zip file in this directory on the PremiSys Server: 'C:\ProgramData\IDenticard\EngageFirmware' Do not unzip the EngageFirmware.zip package.
The firmware filename must be 'EngageFirmware.zip' and the file must be located on the PremiSys application Server in the following location C:\ProgramData\IDenticard\EngageFirmware"
3.) After the firmware is in the correct folder, log in to the PremiSys Server.
4.) Go to -Tasks pull-down menu > Hardware Configuration > ENGAGE Hardware tab. Right-click any Gateway and choose "Firmware Update"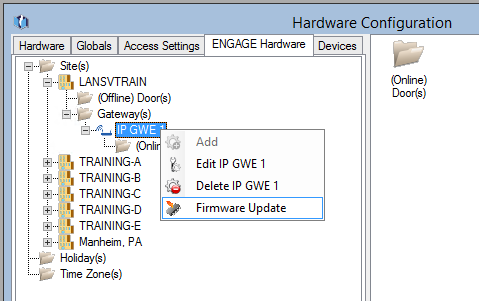 5.) The ENGAGE Online Firmware window opens. Click the Upgrade Gateway(s) button. Wait until the Gateway(s) finish. After the Gateway is completed click the Upgrade linked (Online) Doors button.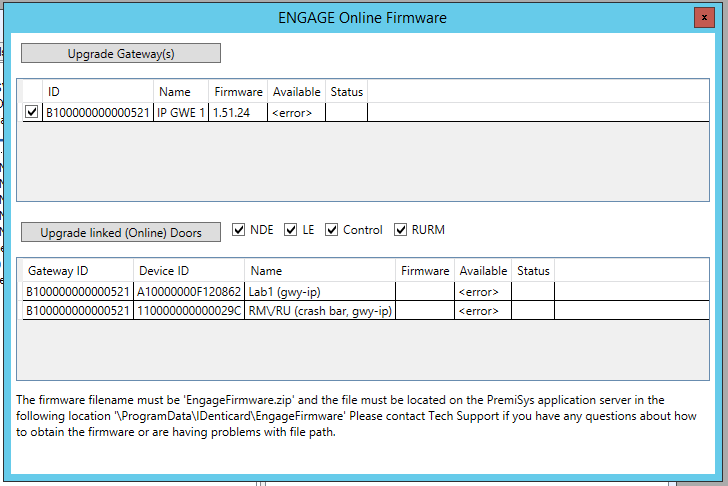 6. The status window should show you when the locks are complete.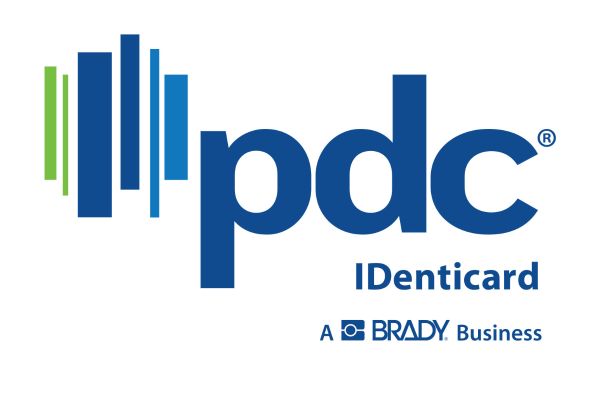 ---
---